Below are current class offerings. These are pieces that I currently am teaching. They are not offered as kits or patterns until I retire them from teaching.
Quatrefoil Cuff and Pendant
Quatrefoil Cuff and Pendant maintain the integrity of the navette and round shapes creating this stunning design. Leslee's step bezel technique for navettes and Rivoli makes for the perfect bezels. The substantial and seamlessly connected components have pearl embellishments on the quatrefoils and the peyote band. A hidden closure completes the design on the cuff. Ndebele stitch is used for the neck chain on the pendant. The unique neck chain closure is bead woven.
You will garner many compliments when wearing this design!!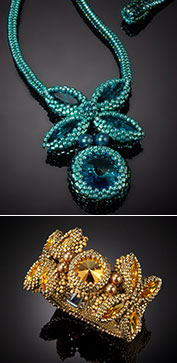 Trillium Pod Pendant is a necklace that can be worn two ways—as a pod and as a pendant. The pod is 1 ½ inches tall by 1 inch wide and 1 inch deep. The pod opens to reveal a pendant with a triangle set stone in it. The pendant measures 2 ¼ inches by 2 ¼ inches. The edges are embellished with 2mm crystals. Both options are suspended from a twisted Ndebele (herringbone) chain that has a bead woven closure. Beads are included to make a twisted Herringbone wrap bracelet. There are 3 charms that can be worn on the bracelet or neck chain [sizes are 1 ¼ inch x 1 inch (small pendant ]and ¾ inch x ½ inch charms). Options add versatility to this piece.
Stitches include: Right Angle Weave, Peyote, Twisted Ndebele (herringbone), ladder stitch, variations of square stitch.
Intermediate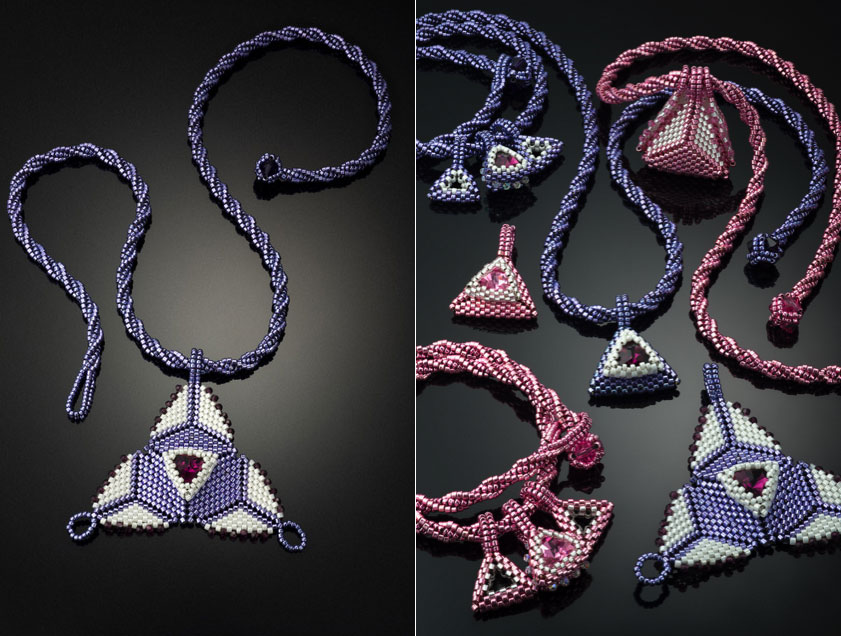 Learn to bezel two sizes of pear-shaped stones and connect them seamTeardrop Lariatlessly to a sleek chain. Close the chain with a bead-woven button closure. Create the neck chain length you prefer. This stunning necklace is sure to garner many compliments.
Stitches: Peyote, Right Angle Weave and variations of Ndebele and Square stitches
Intermediate 6 hour class
This nature inspired pendant is light and comfortable to wear! Bezel 7 navette stones (15 x 7mm) with seed beads and embellish with pearls. Assemble into a frond of leaves. This delicate pendant measures about 5.7 cm by 4.5 cm. The stones are bezeled from the back to the front (no metal settings). It is suspended from a chain to match with a bead woven closure.
Stitches include: Right Angle Weave, Peyote, Ndeble(herringbone) and a variation of Ndebele and square together.
Intermediate 6 hour class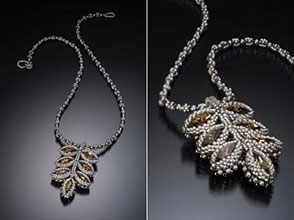 Trabucco Canyon Cuff features rivolis entrapped in seed beads within hexagon shaped beadwork. The rivoli settings surround the wrist. The unique clasp can be worn on top as a focus.
Techniques include, peyote, Ndebele, brick and square stitches.