Leslee Frumin, Instructor and Designer​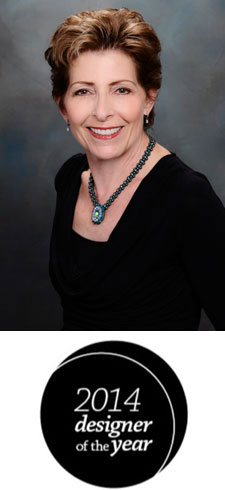 Leslee Frumin, a bead and metal artist from San Juan Capistrano, California teaches off-loom bead weaving as well as metal/jewelry techniques. She has been teaching for a number of years and truly enjoys it.
Leslee's passion for all the colors and textures made possible by the marriage between beads, metals and stones keeps her excited. She fabricates clasps and connectors and often sets semi-precious stones to enhance the design. Her art jewelry pieces are one of a kind. Leslee has won awards for some of her combination bead and metal projects.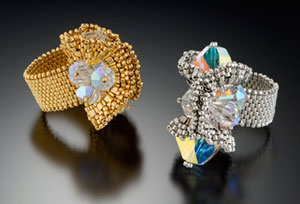 Exhibitions
Birmingham Bloomfield Art Center
Birmingham, Michigan
Faculty Shows 2000–2002
Student Juried Shows 2000-2002
award for "Lady of the Lake" 2000
(evening bag-fabricated sterling purse frame with beaded bag)
award for "Deco Decadence" 2002
(bracelet-fabricated clasp with bead woven cuff)
Saddleback College Mission Viejo, California
More Than Metal Show 2003
Annual Juried Student Art Exhibit 2004
award for "Kahuna Cuff"
(bracelet-fabricated clasp with bead woven cuff)
Annual Juried Student Art Exhibit 2005
"Spring Has Spring" (necklace with unakite donut, 5 peridot
stones set in sterling and fine silver)
Annual Juried Art Exhibit 2008
"Peaches and Plums Gone Wild" (cuff-fused clasp and freeform
bead woven bracelet.)
Bead Dreams 2005
Bead and Button Show
Milwaukee, WI
"Kahuna Cuff"
Presentations
Dallas Bead Society Designing From Concept to Completion,
November 2012
Great Lakes Beadworkers Guild Designing From Concept to
Completion, September 2012
San Diego Bead Society
"Designing From Concept To Completion", September 2011
Great Lakes Beadworker's Guild
"The Artist's Journey: The Goals We Choose and Paths Taken",
March 2010
Hawaii Stitchery & Fibre Arts Guild
"Wearable Art", August 2008
Greater New York Bead Society
"Designing from Concept to Completion", April 2008
Great Lakes Bead Workers Guild
"Managing Dual Careers", March 2008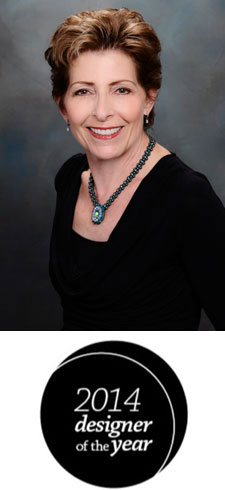 Guest TV Appearance
DIY (Do It Yourself)
Jewelry Show Episode DJMK 108
Publications
Precious Pavé Necklace,
Beadwork Magazine,
December/January 2015 p 38-42
Trio Of Crowns,
Beadwork Magazine,
October/ November 2014 p 38-43
Ambassador Bridge Bracelet,
Beadwork Magazine,
August/September 2014, p 26-30
Empress Catherine's Collar,
Beadwork Magazine,
June/July 2014, p.24-27
Formal Affair Bracelet,
Beadwork Magazine,
April/May 2014, p 26-28
Dewdrops Pendant,
Beadwork Magazine,
Feb/March 2014, p38-41
Royal Jewelry Suite in Crystal Jewelry Inpiration Book
Published 2013, p 46-49
"Snowstar" Necklace in Perlen Poesie Magazine
Issue 16, 2013, p 54-57
Create-Your-Style SWAROVSKI Ambassador Leslee Frumin in Bead Art Magazine
Vol. 4, 2013 p 28-31
Royal Jewelry Bracelet,
Leslee Frumin in Bead Art Magazine
Vol. 5 2013, p44-47
"Bold, Beautiful Buttons"
Bead and Button Magazine
October 2007
"Forged Leaf Brooch"
Art Jewelry Magazine
May 2007
"Purple Anemone"
Beadwork Magazine
June/July 2007
"Putting On The Ritz"
Beadwork Magazine
February/March 2007
"Totally Tubular"
Art Jewelry Magazine
March 2006
"Floral Finish"
Bead and Button Magazine
June 2005
"Link to the Past"
Art Jewelry Magazine
Jan. 2005
"Rock Garden Cuff"
Bead and Button Magazine
Oct 2003